Defining Inventory Threshold Channel Wise
You can now list a fixed inventory count (more or less than the actual inventory available at the warehouse) channel-wise based on your requirement.
With the functionality of listing a higher inventory count, you increase the chances of potential sales from a respective sales channel. This is suggested for all sellers that follow a just-in-time inventory model or have a robust supply chain management system.
In case you want to create an artificial product shortage to boost sales or wish to maintain buffer stocks, you can opt to list lesser quantities than available.

Please follow the step-by-step process to set absolute inventory threshold channel -wise.





Step 2: Click on "Update Listing"

On the "Manage Listing" screen, click on the "Update Listing" button.


Once you click on it the following pop-up will appear:

Step 3: Download Marketplace Listing Data

Select marketplace and download marketplace listing data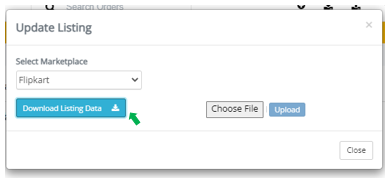 Here click on the "Download Listing Data" button.
Step 4: Record Delta Inventory Adjustment



Let's say you have 100 units of XBOX4 and XBOX5, and on Flipkart you want list 110 units and 80 units of each product respectively.

In this case, record 10 delta inventory adjustment for XBOX4 and -20 delta inventory adjustment for XBOX5.


The same process can be followed for other sales channels also.

You have now set a separate inventory threshold channel-wise.
Related Articles

Inventory Threshold

Why should you have an Inventory threshold? Inventory threshold is the inventory quantity at which EasyEcom will send you an alert so that inventory planning can be done timely. This will enable you to plan your stock purchase so that the product is ...

Inventory Snapshot

Inventory snapshot reports help retailers in keeping a track of their inventory and thereby help you in inventory analytics. EasyEcom's inventory snapshot is beneficial to retailers like you as it provides you with: ​ 1. Status Report- This report ...

FAQ Inventory

1. Can I add my manufacturing unit as a vendor in Vendor Master. Also can I raise Purchase Orders to my factory from EasyEcom? Yes you can raise Purchase Orders to your factory from EasyEcom. However, please note you will not be able to manage raw ...

Defining Inventory % to be exposed from EasyEcom across Portal

Step 1:- Go to Inventory→ Listings→ Mapped Listings panel. Step 2:- Kindly search the inventory for which you want to split inventory by percentage via search option provided at the top left corner of the page. Step 3:- Once the SKU search has been ...

What is EasyEcom and who should use it?

EasyEcom is an AI-driven powerful tool that assists users to list, manage their products across multiple e-commerce platforms, in turn, providing oneself with a single interface to control their Inventory flow across all portals and manage orders ...