This guide is a complete walkthrough of tracking your account balance and payments directly from your system.

In the toggle menu, navigate to "Account Settings>> Balance"

This will automatically redirect you to your Billing platform.
What are Balance Payables and Available Credits?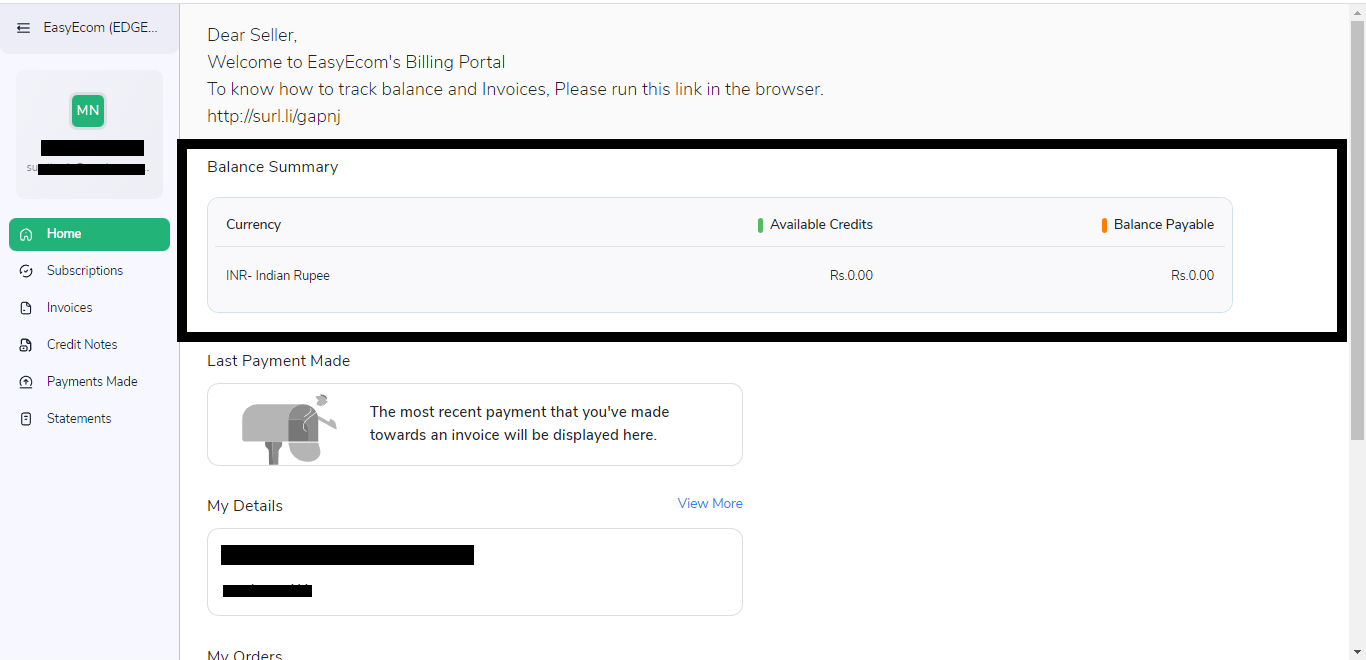 Balance Payable is the total amount you owe EasyEcom for continuing business operations.
Keeping track of the Balance Payable section is important for Postpaid accounts to ensure on-time payment and continual seamless system operations.

Available Credits reflect the total balance remaining. This is applicable in the case of Prepaid accounts. For example, you have paid Rs. 1,00,000/- in advance, and your last month's billing was for Rs.20,000/-. In this case, the available credits in your account will reduce to Rs. 80,000/-.
Easy access to available credit status will help you timely plan the next payment.

Note: Available Credits are updated after the monthly invoice is generated.
Tracking the Latest Payment and Downloading Invoice
You can track your most recent payment and download the invoice from the Last Payment Made section.

To download the invoice, click on "Invoice No".
Track Net Balance
You can track your net balance from the My Details section.
First click on "View More".

This will redirect you to the Account Details section.
Your total consumption is the value of services availed post-last billing.
To calculate your Net Balance deduct Total Consumption from Actual Credits.
Download Consumption Report
Consumption Report provides you with a break-down of total billing at the order-level.
In order to download the Consumption Report, on your accounting platform go to "Invoices" section and click on the "Invoice Number".
Scroll to the bottom of the invoice and click on the pdf file to download the consumption report.