To save time, the system now enables you to cancel your orders in bulk, if required. Bulk cancellation feature will also help you identify the reasons behind order cancellations, and thereby take corrective actions in the future.
Step 2: Record Cancel Order IDs
Select marketplace and enter the Order IDs of all the orders that you want to mark canceled in the system.


If you want to record the reasons behind canceling orders, download the "Cancel Orders via Sheet".
Fill in Order ID, Order Item ID, and cancellation reason for all the orders that need to be marked canceled.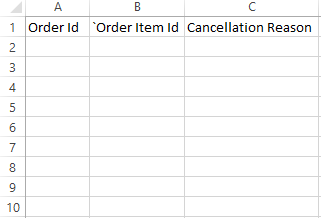 After entering all the details, upload this file to EasyEcom.



Note that, orders can only be marked as cancelled if the order pickup manifest is not created. If you have created a pickup manifest document, the order can only be marked as returned or shipped.
You have now successfully cancelled orders in bulk via EasyEcom.